The work of architects, decorators, engineers, construction companies and designers coexists with the constant search for the best wall covering materials. The ideals are those that combine great resistance to shock and fire, but without taking up too much space and with great aesthetic value. Is there such an option on the market?
Wall covering materials: Vitroflex Wallguard
Vitroflex Wallguard is an ideal solution among best wall covering materials. In this type of coating, one advantage stands out above all the others, which does not need maintenance. Therefore, it is especially indicated for areas that suffer impacts or deterioration or those where it is necessary to repaint regularly. The material can also be folded to make corners or edges without having an open joint that creates a weak point that is easier to get dirty. In addition, it offers a wide range of colors and guarantees the highest quality in the care and protection of walls.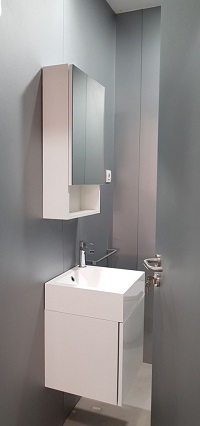 Another decisive factor to use it is its flame retardant character. Other materials, such as PVC They generate very toxic gases when they react with fire. For his part, polyethylene it favors its rapid spread. However, Vitroflex Wallguard offers great resistance in case of fire. In fact, it has the Bs1d0 certificate (hardly combustible product, with very little smoke contribution, without falling flammable drops), which is the best possible classification that an organic material can obtain.
Vitroflex Wallguard Applications
It is one of the wall covering materials that has the most applications. It is also used on doors and surfaces where it is required resistance to friction, impact and humidity. It is recommended for many areas, among which are: corridors and corridors, stairs and emergency exits, work areas, kitchens, laundry, public or private offices, elevators, classrooms, hotels and restaurants, public toilets, garages and storage rooms, workshops , cutting rooms, hospitals, clinics, ambulatory, medical offices, commercial spaces, geriatric residences and the food industry.
Resistance to impact, breakage and surface abrasion, high aesthetic and efficiency value and a very thin thickness that increases the dimensions of the space. For all these advantages, Vitroflex Wallguard is one of the best wall covering materials. In Polymer Technic we are specialists in this product. Contact us without obligation to request more information or a quote.