DECORATIVE TECHNOLOGICAL WOOD PANELS
Wood continues to be today one of the key materials in decoration, its warmth and versatility allow the use of this element in multiple applications. From the continuous search for its improvement, the technological wood, the combination of wood and thermoplastic, which brings together the best of each of the materials: the unique touch and appearance of wood with the resistance of thermoplastic. From Polimer Tecnic we give you 10 reasons to use Tecnodeck (technological wood):

BENEFITS OF TECHNOLOGICAL WOOD:
It does not require maintenance with oils or paints, since being a technological wood it does not need any type of extra protection.
It maintains its appearance over time, the absorption of UV rays allows the stability of the colors and the longevity of the material over the years.
High resistance, the specific composition of technological wood makes it last longer than traditional wood.
Does not splinter. Being compacted together with the thermoplastic, the technological wood range does not contain splinters.
It does not bow, its great hardness allows continuous stability, being able to withstand high weights.
The technological wood is resistant to degradation by water either from the sea or from the pools, it allows its use in walkways and other applications exposed repeatedly.
Non-slip surface, which makes it the ideal material in its application for: perimeter surface of swimming pools, terraces, entrances …
Easy cleaning, the use of pressurized water is enough for your usual hygiene.
The assembly of technological wood is very easy Tecnodeck is also offered for use in pergolas, flowerpots, panels …
If the reasons for using Tecnodeck still do not seem sufficient, we inform you that it is a totally ecological that combines post-industrial waste of selected wood with thermoplastic, thus avoiding the felling of trees. In addition, the Tecnodeck does not contain PVC, and is in turn recyclable.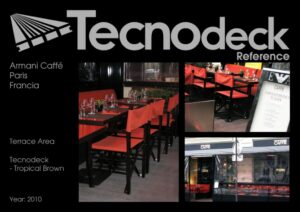 The best firms among them Armani, they already trust Tecnodeck and you can also try it. In Polymer Technic we are looking forward to answering your query.
Related Posts
Rigid plastics are used in many industries and sectors for their properties and advantages. There are many types of rigid plastic, but some of the most common are methacrylate plates, polycarbonate plates, PVC plates, foamed PVC plates, PETG plates, ABS plates. Each has its own characteristics and uses.Polypropylene, polystyrene, nylon, polycarbonate…
Read more