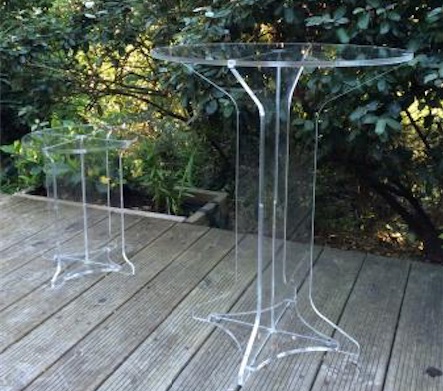 11 July 2017
Posted by

PolimerTecnic

en Portfolio
1
Buying custom methacrylate is one of the solutions that are proposed through different companies and web stores. The truth is that the versatility, as well as the resistance of the material, make it the preferred choice for hundreds of personal, professional and business projects. However, the possibilities are reduced if you look for a company capable of modeling it for you. For example, to create custom methacrylate tables that are perfectly adapted to the use that you are going to give it. Is that exactly what you need? Here are some really spectacular solutions.
Custom methacrylate tables: perfect combinations for you
There are many consumers who have tried to buy custom methacrylate for their projects who are unaware of the many possibilities that this has in combination with other materials. At Polimer Tecnic we work on several projects that can guide you about all these options. Here are some of the custom methacrylate tables that we have created for our clients. In them you can see how wood, acrylic materials or even just methacrylate can be the basis for designer furniture, original and 100% functional.
Polimer Tecnic as your solution in custom methacrylate tables
Those that we have shown you before are just some of the projects that we have executed in the sector of custom methacrylate tables. However, we are experts in this material and we can create almost anything with it. If you have an idea in mind, and you are not sure if it can be executed!contact us without obligation! We will study it in detail, taking into account your needs and the function it will fulfill to indicate how we would carry it out. We can even show you options that fit your initial project and that perhaps, due to lack of knowledge or time, you had not taken into account.
Do you want methacrylate experts to help you create what you have in mind? Polimer Tecnic is your solution!
PolimerTecnic